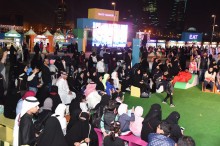 More than 21,000 people visited the 'Festival City' located at Bahrain Bay and one of the main events held during the fourth edition of the Bahrain Festival 'Shop Bahrain'. The Festival City was launched last week by H.E. Zayed Bin Rashid Al Zayani, Minister of Industry, Commerce and Tourism, in the presence of H.E. Shaikh Khaled bin Humood Al Khalifa, Chief Executive Officer, Bahrain Tourism and Exhibitions Authority (BTEA). 'Shop Bahrain' aims to offer a fun-filled schedule of entertaining activities and a chance to win valuable prizes. The 30-day celebration will run until February 10, 2018.
"We are delighted to witness the success of Shop Bahrain during the first few days of its launch and we look forward to welcoming more visitors to attend events held throughout the Kingdom. The Festival City, a key event held during Shop Bahrain, aims to create a fun-filled environment for the entire family to enjoy," said Shaikh Khaled. "The Festival City is also in line with BTEA's strategy which aims to further develop the tourism industry in line with Economic Vision 2030," he said.
The Festival City includes a number of family-oriented activities, live performances, carnival games, valuable prizes, outdoor market, delicious food and live performances.