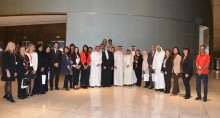 The Bahrain Tourism and Exhibitions Authority (BTEA) announced its cooperation with the World Federation of Tourist Guides Associations (WTFGA) to host a training programme for 'tourism guides' organised in collaboration with the World Tourism Organisation (WTO). The six week programme, held across two phases, will be entitled 'tour guiding principles'. The preparatory course will provide the necessary training and practical guidance skills for about 100 participants.
The course also targets those who wish to improve their practical skills. Themed on "Train the Trainer," the second phase of the programme will target 12 participants. It will focus on training the mentors to become trainers or trainers who wish to enhance their training skills and gain accreditation from the World Tourism Organisation. The training course aims to develop common standards for capacity building and guidelines, in addition to enhancing the experience of tourists by facilitating access to cultural and historical sites, develop specific tourism products and services, and prolong the stay of visitors in the Kingdom.
"The Authority has always sought to develop its human capital and sharpen their skills, which stems from its belief in their vital role in the progress and development of the tourism sector in the Kingdom of Bahrain. Providing services to visitors and meeting their needs is important to enhance their tourism experience," said Hesham Al Saken, Director of Facilities and Tourism Services, BTEA.