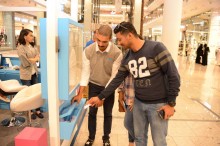 'Shop Bahrain', one of the largest shopping festivals in the Kingdom of Bahrain, is set to be held from January 11 to February 10. The festival will create an exciting range of in-mall activities. More than 80,000 prizes in raffle draws held during the 30-day event include cars, travel tickets and much more. The event, organised by the Bahrain Tourism and Exhibitions Authority (BTEA) in cooperation with partners from the public and private sectors such as Tamkeen, YK Al Moayyed, VIVA Bahrain and Gulf Air.
"We are delighted to announce the calendar of events for the fourth edition of the Bahrain Shopping Festival. Shop Bahrain aims to further drive the growth of three main sectors- tourism, retail and culinary by providing events and activities suitable for the entire family," said Shaikh Khaled bin Humood Al Khalifa, Chief Executive, BTEA. "Shop Bahrain aims to attract visitors from Bahrain and abroad by hosting a wide range of exciting family-oriented events throughout the duration of the festival. We also ensured to host events that suits the interest of all age-groups," he added.
The organisers of 'Shop Bahrain' also held a GCC roadshow in the Kingdom of Saudi Arabia and Kuwait to promote the festival and increase the number of tourists coming to Bahrain.