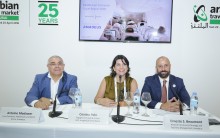 Unveiled at the Arabian Travel Market, the 'Middle East Consumer Travel Report 2018' by Amadeus explores searching and planning habits of the region's travellers in a digital era. The study suggests that the search for value plays a decisive role in how today's travellers research, compare and book their journeys in this part of the world.
The report acknowledges that the Middle East travel market is incredibly diverse when it comes to travel patterns. Cost is cited most often by travellers (50%) as the first consideration when selecting their accommodation — more important than hotel location, classification, or rating. Similarly, almost half of travellers (46%) cite budget as a main factor when choosing flights, more so than airline reputation and even the itinerary. As a result, one in three (33%) travellers today "actively search" for discounts online during the shopping process.
While value is a key driver in travel decisions, consumers in the Middle East are open to being influenced when searching for their destination. However, the expectations from traditional travel advisors are changing, most travellers now visit a travel site or agency when they are ready to book, not when they are still planning their trip.