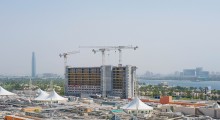 Majid Al Futtaim celebrated the topping out milestone for the new Aloft City Centre Deira, Dubai. Announced in collaboration with Marriott International, the hotel development began in June 2016 and has now completed the installation of the final concrete pour for the project. Set to open in Q1 2018, the hotel spans an area of 28,800 square meters and aims to redefine the upscale hospitality offering in the GCC. Located in the historic heart of Dubai, the Aloft City Centre Deira, Dubai, will offer tourists and local community access to an all-star line-up of hotels surrounding the iconic City Centre Deira.
The hotel development marks the 13th addition to the Majid Al Futtaim Hotels portfolio and sixth hotel development in Deira and; introducing a distinctive destination experience to the vibrant heart of the city.
Designed to meet the needs of diverse audiences, with a special emphasis on millennials, the cinema-themed hotel is intended to extend a novel experience through the integration of intelligent technologies, vibrant interiors and ambience, and memorable dining, leisure and entertainment options. Aloft City Centre Deira, Dubai, features 304 spacious guest rooms, including 29 suites and offers direct connectivity to the shopping mall via a direct link on Level 2. Guestrooms on Level 5 of the hotel, comprising of four suite rooms, 25 standard rooms and associated public circulation areas, will immerse guests in a 'world cinema' and experiential journey.