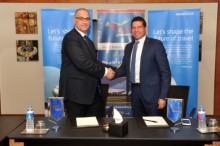 Air Cairo, an Egypt-based carrier, has signed a new agreement with Amadeus for both IT and distribution services. During June 2016, Air Cairo successfully completed its cutover to Amadeus' Altéa Reservation and Inventory and Amadeus e-Commerce modules, whilst also signing for a full content distribution agreement.  The migration to Altéa Reservation will enable the airline to maximise booking and revenue growth through wide-reaching distribution channels, whilst Altéa Inventory provides the airline with the latest schedule management technology in the market place.
Altéa will also provide the airline with a scalable platform to support its future growth. In terms of distribution, Amadeus-connected travel agencies will now benefit from access to the airline's complete range of fares and prices, assisting the carrier in achieving its business goals in regional and international markets.
Air Cairo has traditionally operated as a low cost /charter airline but is part way through an ambitious evolution aimed at becoming a Full Service Carrier. Part of the rationale for this strategic shift is access to more passengers made possible by partnerships with Egypt Air, which owns a significant stake in Air Cairo, as well as other airline partners.