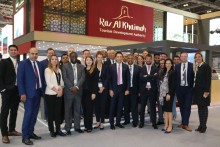 The adventure tourism product portfolio of Ras Al Khaimah, now established as one of the fastest growing tourism destinations in the Middle East, is shaping up as a millennials' magnet. Addressing a panel debate in London on the travel patterns of affluent millennials, Haitham Mattar, CEO, Ras Al Khaimah Tourism Development Authority (RAKTDA), said the emirate was hitting the mark with the much sought-after segment.
"Ras Al Khaimah has what it takes when it comes to ticking millennial boxes," said Mattar. "They want authenticity and the emirate has it in spades; they want meaningful, off-the-radar experiences and the ability to connect with culture, which again we excel in; and they have a desire to soak up natural sights, which is a key pillar of our offering."
Mattar revealed millennials are now a prime target for the emirate, which boasts of an ancient heritage and myriad landscapes from desert to stunning coastline, and the rocky crags of the Hajar mountains with its natural springs and the UAE's highest peak Jebel Jais, now ranked as the emirate's number one attraction.