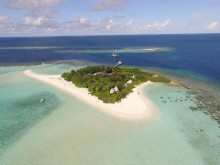 Emaar Hospitality Group announced its expansion to South Asia with a hotel management contract to operate Address Madivaru Maldives Resort + Spa, a picturesque beachfront resort set in a private island in the Indian Ocean, only 20 minutes by seaplane from Male International Airport. Scheduled to be operational in 2020, Address Madivaru Maldives Resort + Spa will be the first-of-its-kind island hotel project by Address Hotels + Resorts, the premium lifestyle hotel and serviced residences brand of Emaar Hospitality Group. A part of the 2.42 sq km Ethere Madivaru Private Island, owned by Adam Abdul Gafoor, Chairman of Finolhu Investment Ltd, Address Madivaru Maldives Resort + Spa spans a total area of 75,000 sq m, with its design and contours defined by the vast coastline. Billed to be a spectacular vacation destination, the hotel project includes 80 beach and over-water villas including selected units for sale.
Adam Abdul Gafoor said: "We are delighted to welcome Emaar Hospitality Group's Address brand to Maldives to manage our exceptional property that will complement our nation's focus on tourism growth. Maldives has been the cornerstone of Indian Ocean tourism, and the government has announced visionary initiatives to drive the role of the private sector, including the long-term lease of islands for resort development. Address Hotels + Resorts bring a unique brand of hospitality that will appeal to the international holidaymakers in Maldives. With a strong intake of Middle East visitors, Address Madivaru Maldives Resort + Spa will appeal to visitors and investors from the region for holiday-homes and luxury stays in our country."
The expansion to the Indian Ocean archipelago underlines the international growth plans of Emaar Hospitality Group, which now has 29 upcoming hotel projects in the UAE, Bahrain, Saudi Arabia, Egypt, Turkey, and now, Maldives. The Group currently has 11 operational hotels and three serviced residences in Dubai, its home-market.