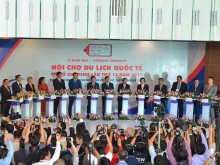 The International Travel Expo Ho Chi Minh City (ITE HCMC), the Greater Mekong subregion's international travel event, concluded its 13th annual event in Ho Chi Minh City, Vietnam. A total of 5,282 meetings were conducted between the buyers and sellers during the three-day event, a 45 per cent increase from last year, reaffirming the importance of the event as the key bridge in the tourism industry for both inbound and outbound markets in Vietnam and the region.
Endorsed by the Ministry of Culture, Sports & Tourism, Vietnam, and the Ho Chi Minh City People's Committee, the event was organised by the Vietnam National Administration of Tourism, Ho Chi Minh City Department of Tourism, Informa Exhibitions, and the Vietnam Trade Fair & Advertising Joint Stock.
ITE HCMC 2017 continued to be the leading travel trade event for the international and local travel businesses, creating unparalleled networking opportunities for them to keep up with the travel trends and establish connections with new business partners, further boosting the tourism potential of the country and the ASEAN region.
ITE HCMC 2017 showcased the strong participation of 300 international and local travel companies, including international promotion agencies from Cambodia, China, India, Japan, Korea, Laos, Myanmar, Taiwan, Thailand, and Turkey.