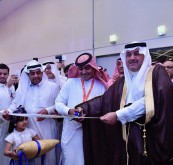 Riyadh Travel Fair's (RTF) 2017 edition drew to a close for the ninth consecutive year, at Prince Sultan Grand Hall, Al Faisaliah Hotel, Riyadh. The 2017 edition is the largest on record with an increase in both the number of exhibitors and visitor arrivals. 270 exhibitors were present representing 55 countries. Over 50 national and regional pavilions had a prominent presence with the show floor space as it increased by 10 per cent compared to the 2016 event.
The fair was inaugurated by His Excellency Majid A. Al-Hokair, Chairman of the Committee for Tourism and Entertainment Riyadh Chamber and Chairman of Board Directors for Riyadh International Conference and Exhibition Center.
The four day event became the focus of business networking opportunities, insightful seminar sessions, ministerial discussions and the recognition of 12 months of the tourism industry's achievements. Bander' Algryni, General Manager, ASAS Exhibitions, said: "The 2017 edition is the largest Riyadh Travel Fair to date thereby extending our prominence as the leading travel and tourism exhibition in the kingdom. More than 250 exhibitors from Tourism Boards, airlines, tour operators and hotels from more than 50 countries are present in the exhibition.
"It's been a year of growth not only for the tourism and hospitality industry in the Kingdom, but for RTF; and with Saudi nationals increasingly travelling overseas at a greater number year on year, the opportunities that the RTF provides for domestic and overseas destinations, hospitality service providers and other tourism related businesses, to directly meet with the kingdom's leading travel professionals and travellers has never been more significant."
The Riyadh Travel Fair was open to both travel professionals and the general public looking for in-depth destination information and special deals. Visitors to the 2017 edition were able to interact directly with various tourism authorities, hotels, airlines and travel agents from around the world. The Arabian Gulf region will have a strong presence at the fair including pavilions sponsored by: Abu Dhabi Tourism & Cultural Authority (Strategic Partner), Sharjah Commerce & Tourism Development Authority (Diamond Sponsor), Indonesia Tourism as Platinum Partner, Al-Riyadh Travel & Tourism (Gold Sponsors), Alia Travel (Silver Sponsor) and Careem (Transportation Sponsor). National pavilions included: Austria, Kyoto Japan, Philippines, Doka, Orange County California, Sri Lanka, Seychelles, Slovenia, Turkey, Morocco, Tunisia, Bursa, Taiwan, Mexico, Holland, Maldives and Korea, to name just a few. Exhibitors from Asia, Oceania, Europe and North Africa were present, along with hotels, airlines, travel agencies, online booking sites, and car rental companies such as Rotana, Lufthansa, MATATO, Thrifty , Dollar Rent A Car, Fursan Travel, and AirFrance & KLM , to name a few.
This year, RTF introduced platform for niche tourism market and segments. For the first time, RTF presented activities and packages targeted to Youth Travel and Medical Tourism. Exhibitors presented digital innovations such as Virtual Reality (VR) goggles, information on new youth travel destinations, events and festivals as well as medical tourism destinations and packages.